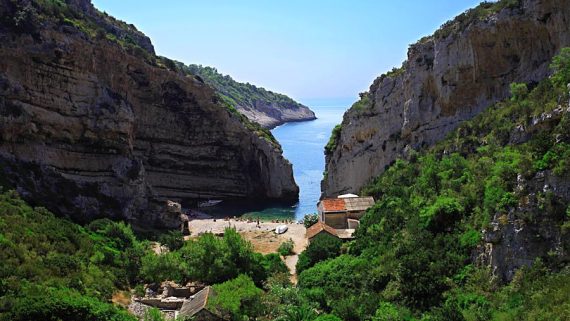 Island of Vis
but people are complicated as cynics will say. But it is precisely the simplicity of living even through the most chaotic touristic periods that makes Vis significantly different from other tourist destinations. Simplicity is the essence of this island tailored to men which is used in its whole by most visitors. Consequently, not just its protruding edges, Vis and Komiža, but also the numerous bays in the island's interior leave you breathless with their luxuriant fertility.
"Of course, we are talking about natural beauties and traditional Adriatic architecture, but the special attraction of Vis also lies in its atmosphere. During the summer Vis is considerably different from the islands of Hvar, Brač or Korčula. The main reason for this is probably that Vis offers only a very small number of hotel beds so this island is mainly visited by people who like it for their own specific reasons and not by "regular tourists" who may have seen its name in a brochure and thought it might be a nice place to visit." These are the words of Jonathan Bousfield, an Englishman specialized in writing about Croatia for a notable edition of the Rough Guide tourist book guides who chose Vis amongst his Top 5 choices of Croatian destinations.
We know that one of the reasons for Vis' uniqueness lies in its 500 years of isolation as a military island where time had stopped. However, as so often happens in life, the thing that once seemed to be a disadvantage in the end turns out to be an important advantage. So, Vis' exclusiveness does not lie in its excellent hotel capacities, but in the island itself; its untouched nature and the people that haven't been possessed by tourist commercialisation but who are hospitable in an authentic, "native" way.